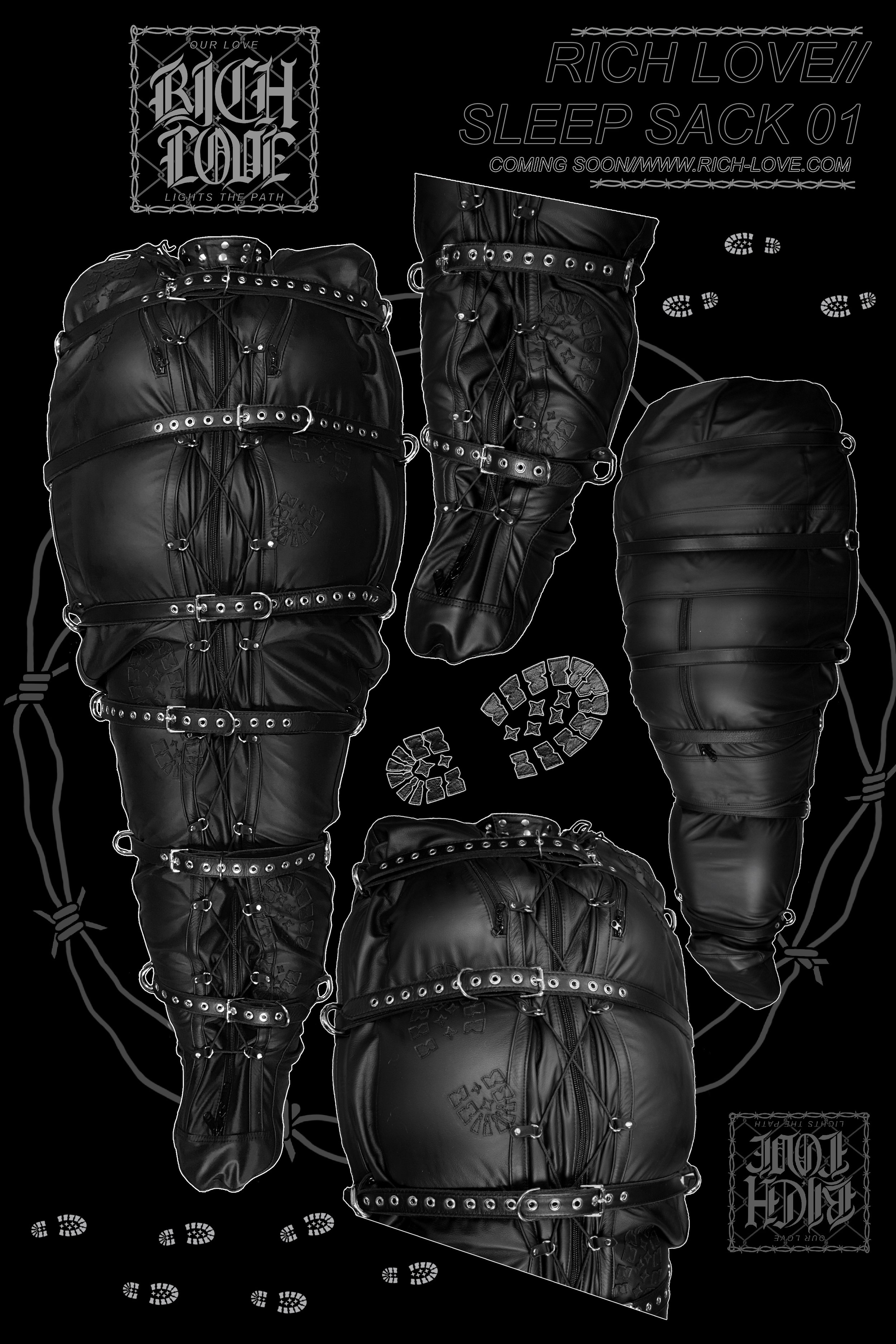 SLEEPSACK 01
Our take on an iconic leather classic- the sleepsack. The holy grail for every serious leather player. Have you ever been encased in leather, tightly cinched from your toes to neck? It's a indefinable, an experience of passion, intimacy, trust, and L U X U R Y. This is a sleepsack of highest quality, made with as much care and precision as the Top Brands of high-end fetish gear, but in a style as of yet unseen in the sleepsack world. Femmes, your sleepsack has arrived and it it's as tough as it is beautiful.
Designed from the toes up with full body shaping through french princess seams to achieve Maximum Accentuation as well as maintaining Peak Comfort against the skin. Internal sleeves keep arms pinned in place and intensify the feeling of complete helplessness and immobilization. Heavy D rings along both sides work as tie downs, belt loops for our optional SLEEPSACK BELTS, or 12 access points for horizontal suspension. The world is your oyster. Ass and tit zippers for ultimate access access and multiple reinforcements to ensure your heirloom quality body bag can be worn hard and cherished for generations. And on that note, Keep your sleepsack maintained by the BEST: We're here to service your sleepsack for LIFE- repairs for just the cost of materials and shipping.
Every sleepsack is unique. Within 24 hours of purchase, you will receive an email with a measurement form and instructions on how to ensure the proper fit. We hand select only the finest hides for our sleepsacks and each one is individually handmade, giving these sacred leather objects the masterful touch they require and deserve. The custom options include but are not limited to-
applique

zipper access to different areas

lining

color

belting options

MORE
Please email BITCH@RICH-LOVE.COM to discuss ideas, options, and prices.
*AS EACH SLEEPSACK IS MADE TO ORDER, PLEASE ANTICIPATE 4-6 WEEKS PRODUCTION TIME* Projects may be expedited for a fee, email vi@rich-love.com for details.
*THE SLEEPSACK PICTURED FEATURES EXCLUSIVE CUSTOM APPLIQUÉ DESIGNED for INTERNATIONAL MS BOOTBLACK 2018 AND CANNOT BE REPLICATED WITHOUT PERMISSION* All basic sleepsacks come blank without appliqué, appliqué can be designed and added for a fee, see custom options above.
RICH LOVE NOW OFFERS PAYMENT PLANS FOR LARGE ITEMS
DETAILS- An initial NON REFUNDABLE deposit of $400 is required to begin your project. To reiterate- this $400 deposit is NON REFUNDABLE. From then on, payments can be made in $100 increments as often as you'd like until your unique project is complete. Payment must be completed within 4 months of deposit. To arrange a payment plan, please email BITCH@RICH-LOVE.COM